Easy Bake Ultimate Oven Now $31 (Was $60) @ Amazon.ca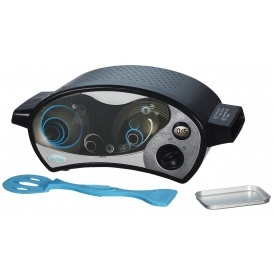 Remember when Easy Bake ovens were just the coolest of all toys? If you're a 90's kid, or an 80's kid, you know what I'm talking about. Amazon currently has the Easy Bake Ultimate Oven on sale for only $31.47, down from its previous price of $69.99. This isn't the Easy Bake I remember, it's way cooler with a sleek new design. It also comes with a baking pan, a pan tool, and a chocolate chip cookie mix to get started right away!
Click here to shop the Easy Bake Ultimate Oven in Black @ Amazon.ca
The Easy Bake oven is a great way to get your kids introduced to cooking. It's a skill they will have to use for the rest of their lives, and the sooner they get interested the better. I also like that they have made this design in a nice modern black color, because boys like cooking too!
I think know why kids love Easy Bake ovens: it's the feeling of accomplishing something all by yourself. They will be so proud to share with their parents they have made with their Easy Bake. That's why as a parent, you eat that burnt cookie and tell them it's delicious. It really is a great gift to get your kids initiated to cooking.
Shipping is free on this item since it is over $25.
(Expiry: February 20th 2016)