Dora The Explorer Swimming Mermaid Doll Was $25 | Now $8 @ Walmart.ca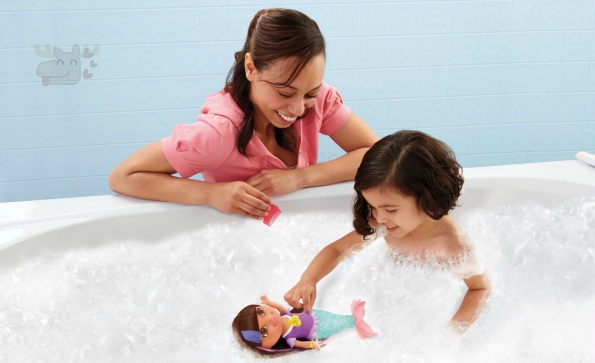 Dora The Explorer made it big and is still going! Girls and boys across Canada love Dora the Explorer and her companions. Take Dora into the tub with your little one with this Dora The Explorer Swimming Mermaid Doll. Originally $24.95 at Walmart Canada, this swimming Dora doll is now on sale for $8. Receive free shipping to your local Canada Post location or to a Grab & Go locker (greater Toronto area).
This doll has a ton of features for such a small price tag. When you wind her seashell necklace, Dora will magically 'swim' through the water like a real mermaid. The doll also features colour-changing hair. Warm water will change her hair stripe to pink. Cold water will change the stripe back to purple. The doll comes with a brush for Dora's hair so you can tidy up her hair. You can also use the brush for applying different temperatures of water.
Essentially, this doll is fun in and out of the tub. I had a cousin who was really big on mermaids so I have seen my fair share of mermaid dolls and this one is pretty great. The mermaid is a good size for small hands as it is designed for ages three to five. Depending on your child, they might enjoy this toy for a few more years. Also, at $8 you really cannot go wrong for a doll like this.
Now, I tried price comparing this doll with little success. The manufacture's website (Fisher-Price) has a suggested retail price of $25 USD. I found the doll being sold by secondary sellers on Amazon from $49.79. In the USA, I found the doll but the lowest price was $15 USD, which is well over double the sale price at Walmart. Essentially, this is a fantastic deal.
This is just one of the many great deals you can score at Walmart Canada right now. What a great toy for your little girl! This would make a fantastic birthday gift or even a Christmas gift (it is only four months away!).
(Expiry: Unknown)