Doc McStuffins Make Me Better Set Now $20 @ Walmart.ca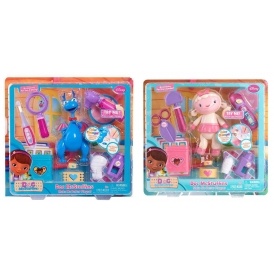 Yay - this is back in stock at the clearance price! My son has been obsessed with pretending to be a doctor lately. So I headed over to Walmart earlier looking for that classic doctor set that we played with as kids. I didn't find that, unfortunately but I did find this totally adorable Doc McStuffins Make Me Better Set on clearance sale for just $20. The original price was almost $30, and I couldn't say no to this set for just twenty bucks. Walmart has a few different shipping options too.
Have you ever heard a three year old tell you that they have a diagnosis? Well I have, all thanks to this set. I know the colours may look a little girly but my son doesn't care of course. One tool lights up and he pretends the included dragon toy is his patient. Occasionally the dogs have had to tolerate his "check-ups" as well.
This Doc McStuffins set comes with an articulated figure of Stuffy, along with 13 other Doc-inspired medical tools including the light up looking tool I mentioned above. I didn't know this but I guess the included cast/bandage changes colour with different water temperatures too? Pretty cool stuff.
Walmart.ca offers free shipping on orders over $50. If you just want this one set, then you can opt for free shipping to your local Canada Post Office or Walmart Canada Grab & Go Locker for totally free with no minimum purchase.
(Expiry: Unknown)