Disney Throw Blankets from $14 @ Bed Bath & Beyond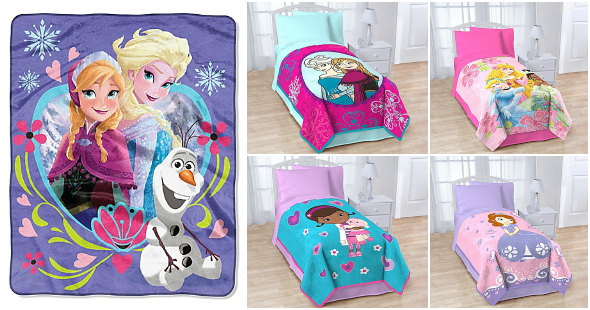 I was unceremoniously informed the other day that my one-year-old son would soon start to develop something called opinions. This is both frightening and exciting. I look forward to him making his own decisions and providing input but not to when those decisions don't align with mine, obviously. I thought of that conversation when I saw these throw blankets closeout priced at Bed Bath & Beyond because I was actually wondering, at the time, things like how he'll want his bedroom decorated, what clothes he'll want to wear and what hobbies he'll be into.
Well, if he's partial to Frozen, I'm all set because there is a cute, brightly-coloured Frozen Frolic Raschel Throw for just $13.99. Bed Bath & Beyond also has larger fleece blankets (62" x 90"), featuring other characters, closeout priced at just $24.99. There are a few different character throws to choose from in the larger size; hopefully you'll find your child's (or your) favourite! These throws have all been discounted to $24.99:
These blankets would be perfect as decoration on the bed or - even better - for curling up on the couch watching movies.
Bed Bath & Beyond Canada ships orders over $99 for free, otherwise, shipping is commensurate with your order total and starts at $5.99. If your chosen items are available in store, they also offer a Reserve Online Pay in Store option.
(Expires: Unknown)