Up To 68% Off Disney Frozen Toddler Girl's Winter Boots from $15!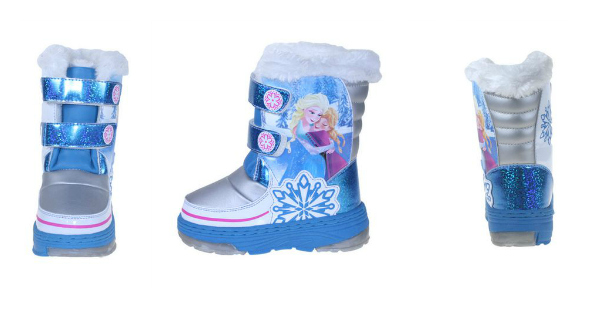 *Bump!! Sizes 5, 8 & 9 are now just $15!!*
Oh, how perfect are these?! And the timing couldn't be better with all this snow moving in across the country. If you have a pint-sized Frozen lover, you'll want to check out the new addition to Walmart's Clearance stock. They were originally priced at $49.94 but these Frozen Toddler Girl's Winter Boots have been marked down to just $15-$19.
These boots are insulated and have a faux-fur collar trim for added warmth (so her feet don't get frozen... ha!). There are wide Velcro straps so your little girl can easily put them on and take them off on her own. The rubber sole is textured for extra traction on icy days and the outer soles light up. The synthetic upper is decorated with Frozen graphics and, of course, glitter. We all need more glitter on our winter boots, in my opinion.
These Frozen Winter Boots are cute and colourful and would make any little fan ecstatic to have them on while traipsing through the snow. Adorned with a picture of Elsa and Anna and lots of snowflakes; I love the silver and sparkly blue details.
There are plenty of sizes still available; Walmart.ca is showing stock in sizes 5 through 10. But with a price this low -- and a 62-68% savings -- they probably won't last long. Grab a pair (or two) now to avoid disappointment!
I was unable to find this exact pair of boots for sale at any other Canadian retailer but other Frozen-themed styles were as much as $60! Target has a pair on their site that is very similar and they're going for $29.95 US. The $15-$19 price tag at Walmart.ca is a steal!
There is currently only one review but it is very positive; it sounds as if the boots are quite warm so you won't have to worry about cold toes:
We bought these last month and my daughter loves them. They seem to be keeping her feet warm as she never complains of cold feet. She loves Anna and Elsa and they even light up when she walks.
These Frozen Toddler Boots are eligible for free Canada Post or Grab & Go pick up or will ship to your door for free when included in an order of $50 or more.
(Expires: Unknown)