Crayola Frozen Inspiration Art Case $14.97 @ Toys R Us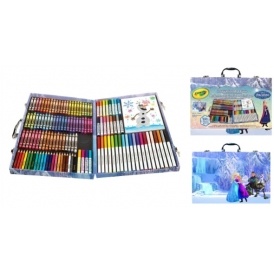 How cute! This Disney Frozen Art Case by Crayola has 156 pieces and it's on sale at Toys R Us this weekend for half its regular price of $29.99 at $14.97.
As far as I can tell, the only thing 'Frozen' about this is the case itself but, regardless, a great set for any die-hard lover of the movie at a fantastic price! And the kit is actually made by Crayola so you know quality won't be an issue.
The set contains:
64 Crayons
22 Short Coloured Pencils
40 Washable Markers
30 Paper Sheets
Storage case
I did some price comparisons around the 'net and this is definitely a deal but it's only valid through the weekend. I found the same kit selling for $24.99 US at Target and it's $40 or more on Amazon Canada.
Its low price is below Toys R Us' free shipping mark of $49 so you'll need to top up your order to receive the shipping credit or, better yet, pick it up in store if it's available near you. If you're looking for items to complete an order, we wrote about a few things yesterday that are also half-price and there are a number of other great sales going on. You won't have any trouble!

(Expires: 6th March 2016)