Complete Set of Paw Patrol Plush Pup Pals (All 7) For $44 Shipped @ Amazon Marketplace Seller: MagicT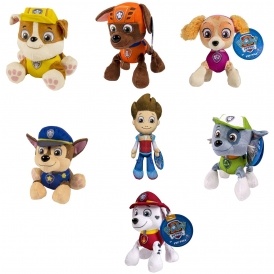 Paw Patrol! All the kids seem crazy over these adventurous pups. If you are thinking Christmas (or birthday, or rainy day), then check out this offer at Amazon.ca. Right now you can get the complete set of all 7 Paw Patrol Plush Pup Pals for $43.36 including shipping at Amazon Canada. Though this item is shipped and sold by the Amazon Marketplace Seller MagicT.
These are brand new with tags, made by Nickelodeon. You will get the complete set of 7 plush pups including: Ryder, Skye, Zuma, Rubble, Rocky, Marshall and Chase. Each pup stands about 8" tall and if you do the math, individually they will cost you $6.19. I took a look at other Canadian retailers and for a plush of this size you would be paying $9.99+ each, and this offer from Amazon even includes shipping. Actually - on Amazon alone, each individual pup is $9.90 so if you need to add any (like Everest) then do so while you're shopping now.
Think about all the adventures your little one can act out with these cute plush toys. It is so interesting to see what stories they can remember from the show, and what ones they make up on their own.
This set is shipped and sold by magicT, an Amazon Marketplace Seller. Also keep in mind that this set is shipping from China - so there is a slight chance that they won't be official products. Also, shipping from China can take 17-28 days.