Codenames Party Game $21.98 @ Amazon.ca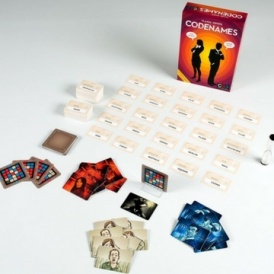 Holiday party season will be here before we know it – and you might as well be prepared early! Codenames is one of the most popular games around, and right now, you can pick it up from Amazon.ca for $21.98!
This party game normally sells for $26, and it's one of Amazon.ca's best sellers – so you won't want to miss out on this deal!
The social deduction game is "a word game for people who suck at word games" – so maybe my brother will finally want to play this one!
Four to eight (or more) people can play Codenames at once, so it's perfect for smaller get-togethers. You can also play a trickier, more competitive version with just two players, so save that one for a night in!
Here's how it works:
"Two rival spymasters know the secret identities of 25 agents. Their teammates know the agents only by their codenames. The teams compete to see who can make contact with all of their agents first. Spymasters give one-word clues that can point to multiple words on the table. Their teammates try to guess words of their color while avoiding those that belong to the opposing team. And everyone wants to avoid the assassin."
This game has super high ratings, so make sure you check those out (and jump on this deal while it's still available)!
This game is Amazon Prime eligible, or you can receive free shipping on an order over $35.