Chillafish Josie Balance Bike Was $145.59 | Now $57.37 & Free Shipping @ Amazon Canada (EXPIRED)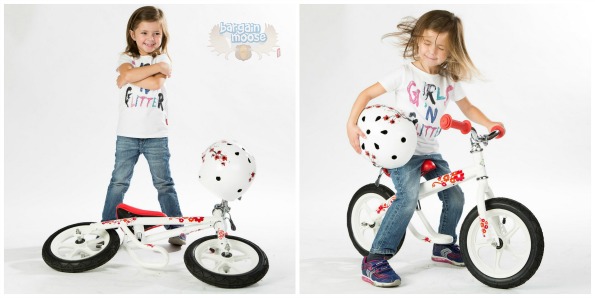 We have now hit that point in the summer that you may realize your kid is ready for a two-wheel bike this year, not next year. Check out the Chillafish Josie Balance Bike that was $145.59, but is on sale for $57.37 today. This bike also includes free super save shipping @ Amazon.ca!
Learning to ride a bike can be tough. The boo-boos, the bonked heads and the fear of having those training wheels removed for the first time. Have you tried a balance bike with your child? They are a big hit on the market for kids and are supposed to make it much easier to learn how to ride a bigger pedal bike. The idea behind this bike is you introduce this bike without pedals when the child is small. They then learn to glide and balance before they need be concerned about pedalling.
The Chillafish Josie Balance Bike is perfect for your favourite little kid in your life. Ideally for kids in the two to five-year-old range, this colourful bike will help your kid burn off some energy zipping down the sidewalk. This is a 12-inch bike with red flowers detailed on a white frame. I like that it has a touch of girl design to it without being neon pink from frame to the wheels. It is a nice compromise for my daughter and I. This is a BMX style bike with wide handlebars and thick rubber grips on the handlebars. The seat can adjust up or down to your kid's height. The rims are a lightweight fiberglass that will hold up to a rough and tumble kid. To make sure you have the right fit for your child, check out this bike sizing chart at About.com.
At Toys R Us Canada, I found this green Yvolution balance bike on sale for $79.97. I found the ZUM balance bike over at Walmart.ca in pink, red or black for $79.98. Over at Shop.ca, I found a pink Mamba stride bike that is also on sale for $89.99. We are at the point in the season when bikes sales are peaking if you want ride time this summer, and this bike is a great deal.
Reviews for this particular model of bike are looking good. Two reviewers have commented positively about the bike mention it is overall a good purchase. One reviewer spoke of how her four-year-old daughter mastered the art of balancing on it in a week and is now zipping along on her bike. Make sure to carefully measure your child, as one reviewer mentioned her child outgrew the bike in winter before she had a chance to use it.
Snag this bike now while the price is low. I have not seen any balance bike at this nice of a price since early last summer. Even better, there is still plenty of time for lots of riding this summer.
(Expiry: Unknown)