Chapters Indigo: Homer Simpson Mr. Potato Head Was $30 | Now $15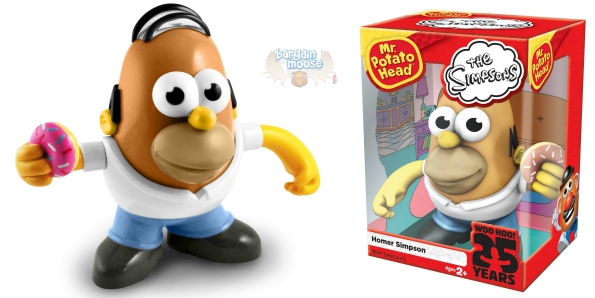 It is so much fun when two different 'geekdoms' meet and a beautiful product is born. If you are a fan of The Simpsons or a fan of the classic toy Mr. Potato Head, then you need to pick up the Homer Simpson Mr. Potato Head for 50% off. Originally $29.95, the Homer Potato Head is on sale for just $15.
This Simpsons Mr. Potato Head was released in honour of the show's 25th anniversary. He comes decked out Homer's signature style: white shirt, blue pants, black shoes, and pink donut. Yes, you even get the donut! This is officially licensed Simpson's merchandise (no knock-offs here).
The Homer Mr. Potato head figure stands approximately 6" tall, which is a bit smaller than a standard Mr. Potato head. Some reviewers have been disappointed that this Potato head does not have swappable appendages and, indeed, that would have really taken the cake - or donut. It is a shame he also does not come with a Duff beer but this toy is targeted towards kids as well as adult collectors. Maybe they didn't want any parents complaining.
The toy is designed for children ages two and up. However, many collectors of Simpson's memorabilia or classic style toys will love this Homer Simpson Mr. Potato head just as much. If you know someone who loves the show or have a friend who is very 'Homer' like, then this would make a great gift. I am not exactly sure it would fit inside a stocking, but it might be able to be shoved in the very top if you did not want to stick it as a loan gift under the tree.
I think that Simpsons should do a Potato Head episode as sort of an alternative universe or maybe as a bad dream after too much beer and pizza. I remember when they had a futuristic dream from several different perspectives... and I think it would be so cool to do something where they are Potato Heads: ones with swappable parts.
I price compared and there really was no competition. The cheapest price on Amazon.ca is $26.11 + $12.85. On eBay, they start at $19.50 but the shipping is as much as the toy itself. ThinkGeek is out of stock and the original price is not listed.
Shipping is free on $25 or more.
(Expiry: Unknown)