Chapters Indigo: 49% Off Select Winter Toys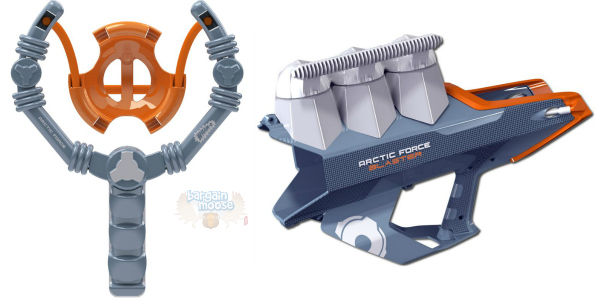 Chapters Canada is offering 49% off a selection of winter toys. Check out snow kits, snowball launchers, snow markers and more.
I never knew there were so many interesting toys to make snow a lot more fun and help your kids get outside. Here are just a few of the items on sale.
These Sno Stompers in green, pink, or blue are like a modern take on snowshoes. The big difference is that these Sno Stompers leave an imprint of another critter! The green stompers leave a dinosaur print, the pink stompers leave a large paw print, and the blue stompers leave the claw print of a large monster. Originally $14.95, the Sno Stompers are now on sale for $12.50.
If you happen to be in eastern Canada right now, I am sure you have no shortage of snow to work with. This Exclusive Glo Sno-Man Kit will give your children a few ideas of what to do with their time and all that cold white stuff. Originally $24.95, the snow man kit is on sale for $12.50. Inside the kit, you will find three Sno Markers (two coloured and one neon) as well as glow in the dark hat, buttons, and nose.
Excessive snow is perfect for the building of snow forts. Pick up a Sno Brick Maker for your kids to fashion proper bricks out of snow. You can choose from pink, blue, or green but there appears not to be a difference between the rectangular molds. Originally $6.95, the brick maker comes down to just $3.50 with this sale. One happy parent said:
Great idea to get kids playing and using their imagination while getting lots of exercise. Terrific and easy to use.
My favourite snow toy has to be this Wham-O Snow Sling Shot. It is perfect for launching snowballs over the walls of a fort or trying to get them over the house! I appreciate this toy because, as a kit, I had a horrible throw. I could maybe get a snowball 10 feet away if I was lucky. That is a horrible range when your playmates have legs and can actually run pretty fast in snow. Originally $14.95, the slingshot is now on sale for $7.50.
These and more toys are on sale for 40% off right now. Receive free shipping on orders of $25 or more. Oversized or overweight objects do not qualify for free shipping.
(Expiry: Unknown)