Chapters Indigo: 2014 Holiday Barbie Was $60 | Now $15 (FS @ $25) (Expired)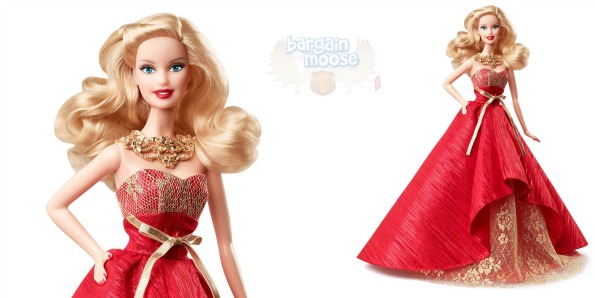 Chapters Canada is offering 74% off the 2014 holiday Barbie collector doll. originally $59.95, the doll is now on sale for $14.95 at Chapters Indigo.
This is a very hot deal, one that will sell out quickly i suspect. I price compared the 2014 Holiday barbie with other retailers to find it well below current retail prices elsewhere.
$29.98 @ Toys R Us
$42.49 @ Amazon Canada
$42.49 @ Sears Canada
$49.94 @ Walmart Canada
Toys R Us is the next cheapest, but their price is still double the current sale price at Chapters Indigo. This is why I expect the doll to sell out quickly, the price just cannot be matched.
The Holiday barbie is a traditional Barbie Doll that comes out each year for Christmas. She is dressed up in a glamorous ball gown, in seasonal colours, and looks dazzling. This year she is wearing a red gown with gold accents. While there are no reviews on Chapters' website, I looked at reviews from other websites for the doll.
One reviewer at Walmart said:
Goes great with collection...is kept on shelf for daughter when she gets older
My mother tried to do this with me when I was younger - start a Holiday Barbie collection - but I couldn't stand owning a doll and not being allowed to play with it. So she stopped buying the really expensive Barbies out of fear I would just ruin them when I was younger. It was quite a legitimate concern!
As for the doll herself, I have read many reviews on her. While some people are not happy with the quality of the doll and think that Barbie is getting a bit cheap and unimaginative with their holiday dolls, the doll does have some features that other customers are raving about. One customer said:
She has hair a wonderful golden shade of blond, slightly darker than the usual very pale blond. I was also pleasantly surprised to see the gold glitter eye shadow on her eyelids that make her extra special.
The gold glitter eye shadow seems to be a popular feature on this Barbie for collectors.
Now, your Holiday 2014 Barbie qualifies for free shipping on orders of $25 or more. You may want to purchase two dolls or find something else in the sale section like this Guardians of the Galaxy - Big Blastin' Rocket (was $39.95 | Now $9.99) and this Transformers Power Battler Strafe (was $114.95 | Now $3.74) to add to your cart to receive the free shipping.
(Expiry: Unknown)