Chapters Canada: $20 Off Plasma Cars Today Only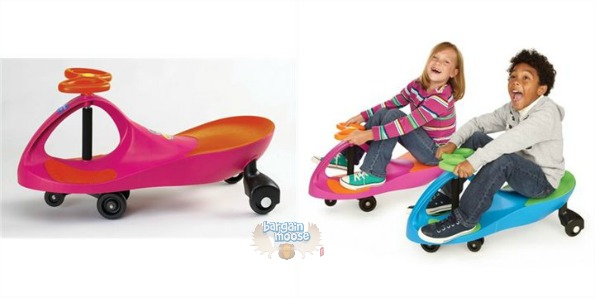 Remember on Monday when I told you about Chapters five days of surprise toy deals? Well, check out today's awesome deal with $20 off plasma cars.
This deal is near and dear to my heart because the plasma car is big at my house. My two youngest sons ride theirs non-stop. That is until there is a hill, then they stop and ask me to carry it, but years of me refusing have just made them stronger riders. Typically, the plasma car is better used on an indoor, flat and smooth surface, like a gymnasium or a large basement, but I see all of the kids in the neighbourhood riding theirs like a ride-on car, full-speed ahead. At the playgroup that I go to, they have about five plasma cars, which the toddlers fight over like the Kardashians over lipstick. It can get ugly. Buy your kid his/her own plasma car so they can run over your feet like the proud owner that they are.
Not just a car anymore, they also have a plasma bike, which looks pretty cool. This lightweight, pedal-less bike is great for teaching kids balance before getting on an actual bike. They stress the lightweight part, because they know at some point, you will be carrying it, but that's our job as parents. Make dinner and carry my stuff.
Both car and bike are $20 off. The bike was $79.99, now $59.99, the car was $64.95, now $44.95, and both come in a variety of colours.
Shipping depends on where you live, but was about $8 to Ontario. You can also ship to store for free.
(Expiry: 25th July 2013)