Chapters Canada: 20% Off Big Ticket Toys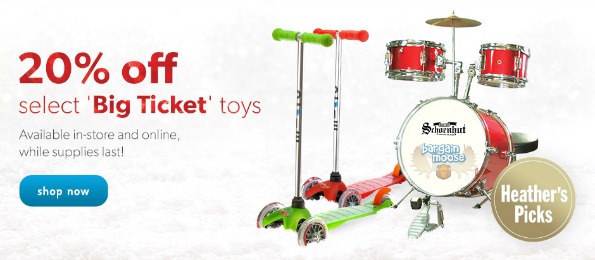 Chapters has a good sale going on where you'll get 20% off any big ticket toys. Pair that with their coupon for $15 off $75, and you've got yourself an amazing deal.
Remember rushing down the stairs on Christmas morning to find that one big gift from Santa, too big to wrap, that you really wanted? Maybe it was a drum set, a large dollhouse, a bike or how about a new car? Ok, the new car never came (still waiting Mom!), but I'm sure it made your Christmas. Well, your kid wants that same feeling. And yes, I know this isn't what Christmas is about, but we are a blog about shopping and saving, not about ways to make Christmas special without gifts. Check out some of the very cool items you can get as big ticket toys at Chapters right now.
Now, there are only four toys on this list, but they are good ones.
Bang out those drums with this junior 5-piece drum set by Schoenhut - now only $175.96, was $219.95 - only $160.96 with promo code added.
The mini kick scooter, in green or red is a perfect Christmas gift - now only $79.96, was $99.95 - use the coupon to get it for only $64.96.
I love this KidKraft modern kitchen - now only $103.96, was $129.95 - with coupon only $88.96.
Shipping is not free because these are large items. When I added the drums to my cart, the shipping was only $11, so that's not too bad since you are saving over $50 anyway.
(Expiry: 10th December 2013)