Calico Critters Adventure Treehouse Gift Set Was $140 | Now $74 With Coupon Code & Free Shipping @ ToysRUs Canada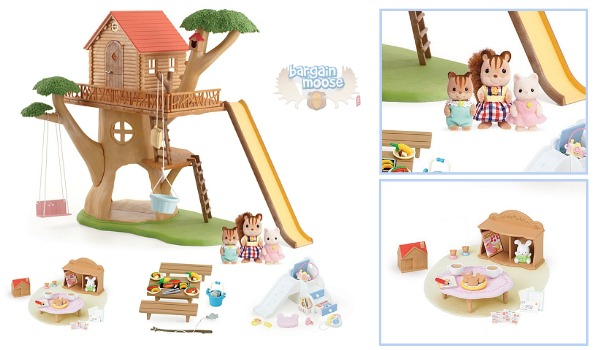 Bargainmoosers, if you have been eyeing these sweet little woodland creatures like I have for your favourite kid, now is a great time to buy. I just found the Calico Critters Adventure Giftset on sale at Toys R Us Canada that was $140, for $83.97. Use the coupon code CineplexFeb and receive an extra $10 off your order, bringing your total down to $73.97.
I have been eyeing the adorable Calico Critters playsets for quite a while. These playsets are detailed forest animal sets with lots of adorable pieces. I want to set these animals up at their sweet little picnic tables for a snack. This particular playset is a fantastic deal, as for most of these detailed sets you buy the furniture and dolls separately, which can add up quick. Included in this set is a fully functioning treehouse with slide, swing and moveable cabin. You will also find three animal dolls, a picnic table with accessories, a baby animal slide, toys, snack table and more. This set is ready to play with straight from the box. I find by buying an adorable starter set like this one it makes it easy for my daughter's aunties to buy gifts. They can pick up extra pieces for my daughter without spending too much cash and know that she will have some great playtime.
Toys R Us says this set is exclusive, but Chapters Indigo also carries a similar set for $119.95. LearningToys.ca also carries a set with bonus figures, but you will pay $114.99. I also found the Calico Treehouse only without any figures or extras for $69.95 at Mastermind Toys. If you want to move in a little family such as the Cottontail Rabbit Family that will cost an extra $28.99, making your total cost $98.94 before you buy any furniture. The extra furniture, dolls, and accessories are what really make this a deal for the Toys R Us purchase.
Shipping
Shipping from Toys R Us Canada is free for most locations for this item. If you live in a remote location that does not qualify for free shipping, your shipping costs will be calculated from within your cart. You also have the option to pick this up in store free.
Reviews
Overall buyers love this adorable little playset. Those who bought the set are excited about this purchase, and the set has a high overall rating.
We wanted to get our 4-year-old daughter a Calico Critter house/playset for some time. We settled on the Treehouse Giftset because of the uniqueness, and all of the extras that were included for the price. This is by far the best playsets we have purchased. The calico critters are so adorable and much cuter than the dolls that normally come with small dollhouses, even my 6-year-old son doesn't mind playing with a treehouse and the animals. Would highly recommend!
This is a fantastic set for your favourite kid who loves imaginative play and role-play. I love that this toy has lots of details and seemed to be pretty high quality when I have checked it out in the stores. I also love that this toy is not branded to a specific kid show my daughter will beg to watch. Pick up your set for your favourite kid now, this price is the lowest I have seen this set.
(Expiry: 18th June 2015)