BookCloseouts Canada: 1000 Piece Puzzles only $4 Each (Orig. $15.99)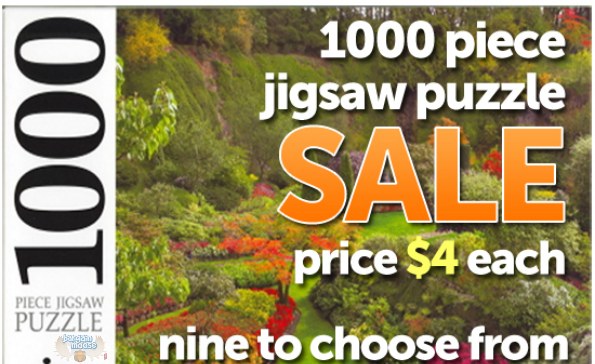 I LOVE Jigsaw puzzles! Right now Bookcloseouts Canada is offering 9 different puzzles for only $4 each! They are nice sized puzzles too: each 1000 pieces. Originally priced at $15.99 each, at $4 they are a steal.
My favourite puzzles are 500 pieces. They are small enough to fit on a coffee table yet big enough to afford some challenge and great relaxation opportunities. There is just nothing like chilling out putting a puzzle together.
The puzzles for sale @ Bookcloseouts are considered mind bogglers! This is because there is a lot of repetitive pattern in the puzzle making it much more difficult.
I would like to try the Leopard and the Peacock puzzles. The Peacock puzzle looks challenging. I like animal based pictures: or waterfall based ones too!
You cannot combine any coupons with this deal.
Expiry: Unknown