Bonnie Togs Canada: 25% Discount Friends & Family Sale!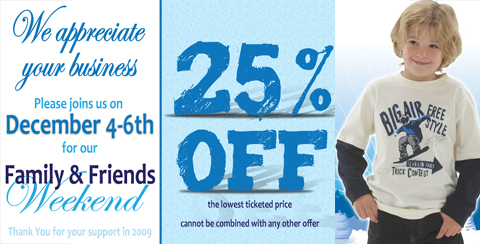 Between the 4th and 6th of December 2009, Bonnie Togs Canada is holding a friends and family event – and we know what that means, don't we! EXTRA discounts! If you're looking for some kids' clothing, this could be perfect. They're offering a 25% discount on the lowest ticketed price.
The advert does not say that you must print it out or anything, so I'm assuming that the sale is just happening in store, on the specific dates. You can print the page if you want to be sure, but I don't think you'll need it.
Thanks for emailing Marlo!