Bean Bagimals W/Cuddle Pal $49.99 @ Sears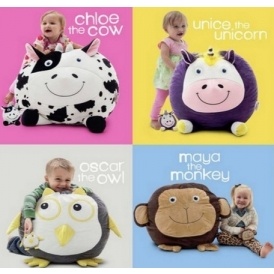 When I saw this big fluffy Bean Bagimals unicorn I had to laugh when I noticed the identical smaller sized cuddle pal that's included. The expressions on these cute toys for kids is quite cheerful and I know kids would love sitting on these Baganimals, especially while watching TV.
My kids would basically be rolling around on the floor with these Bagimals, so there's probably some pretty good motor skills to be had there, too. Plus - the Baganimals just look so cute!
You can select from 8 different Bagimals and each critter has a name, too with perfect alliteration.
They're selling for $49.99 and shipping will be free if you ship to a Sears location for in-store pick up, or place an order over $99. Otherwise, shipping is $6.95.
Which one do you think is the cutest?