Barbie Ultimate Puppy Mobile $39.97 @ Amazon.ca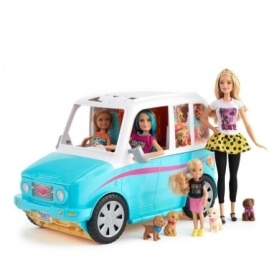 This Barbie Ultimate Puppy Mobile is one of the #1 selling toys on Amazon.ca right now - which means you can bet it will be a top contender on Christmas lists allover the world. Right now you can even be lucky enough to grab the Barbie Ultimate Puppy Mobile on sale for $39.97 at Amazon.ca down from $65.
This is going to be the best price on this Barbie Ultimate Puppy Mobile. I don't expect to see it on sale again before the Christmas season is among us. With a quick price comparison, you can see that it is a stellar deal. I spotted it for $74.99 @ Sears.ca, and $79.99 @ ToysRUs.ca.
The Barbie Ultimate Puppy Mobile opens up to create a giant play space for all of Barbie and her friends to play with their pets. There are tons of features like a zip line, lounge, tiki-themed smoothie bar and even beds for all four of the included puppies.
Since this item is over $35, you will also get free shipping and handling from Amazon.ca.
If you like this, you may like these...