Barbie Camper Vehicle $79.97 @ Amazon.ca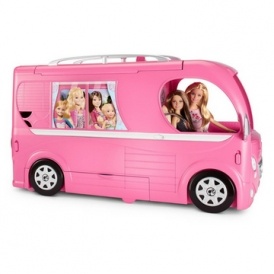 Barbie is coming back in a big way this year, and most of the kiddos I know are asking Santa for at least one doll or playset. One of the coolest Barbie toys out there has to be the Barbie Camper Vehicle, and Amazon.ca has it on sale for $79.97 now!
This is one of those toys I really wish I had when I was young! It usually sells for $130, so you're saving just over $50 with this deal!
The RV looks compact, but it holds WAY more than you might think. Lift the handle, and you can transform the camper vehicle into a three-story playset! The front cab becomes a bathroom, the back hides a fire pit, and you can even pull out a swimming pool (that has its own slide!) from the bottom of the camper!
There is a newer version of this set – the Barbie Camper – also on sale at Amazon.ca, but it sells for $99.97 (down from $129.99).
You can also pick this Barbie Camper Vehicle up for the same price at Toys R Us Canada. The Walmart Canada website shows it available for $65.97, but it's currently out of stock online.
The Barbie Camper Vehicle is not Amazon Prime eligible, but it will ship for free, since it's over $35.