Amazon Canada: Prince Lionheart Whirl Balance Scooter Only $82.26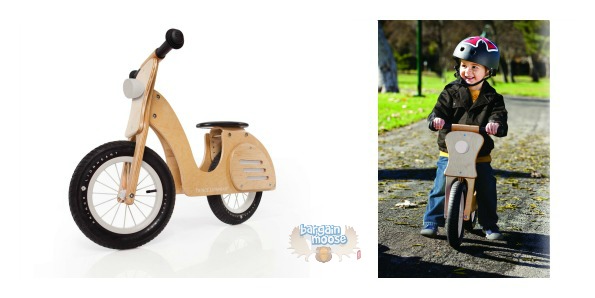 The Prince Lionheart Whirl Balance Scooter is on right now at Amazon for only $82.26 (regularly $144.99). I Googled this and couldn't find it for less than $150, so this is an amazing deal.
I've heard amazing things about this bike and the reviews are all really good. This pedal-less bike lets children learn to balance and ride a bike without pedalling. It is the next logical step after ride-on toys. This scooter will boost their confidence before getting on a pedal bike and riding, as they walk with it then learn to glide. It is suitable for ages 2 to 5.
The frame is made from 100% birch wood and the inflatable rubber tires are PAC-free. This bike is also comfortable with foam handle bar grips and a cushioned leatherette seat. You can get the bike with natural white trim or with pink.
The reviews say the bike is easy to put together and that kids love it. I really like the natural look of it and am seriously considering it for my youngest who is a daredevil and this would be right up his alley. He isn't too sure about pedalling just yet, so this would be perfect. I also think this might be good for my 5 year old who loves riding his plasma car, but walks his bike around. It might just build his confidence enough to lift his feet and start using his pedal bike.
Shipping is free for this item.
(Expiry: Unknown)