Alex Toys Super Art Studio $26 @ Amazon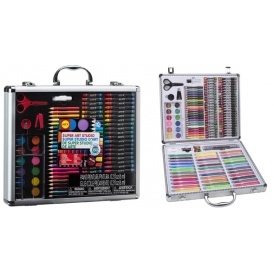 Alex Toys are great for encouraging creativity and keeping little hands busy and this Super Art Studio is no exception. I've found it on Amazon for just $25.84 which is their lowest price ever and the lowest I could find anywhere (even on American sites!).
This sturdy aluminum case is packed full of art essentials that will occupy kids for hours. The case folds out to display an art studio-like set of supplies that includes:
12 watercolor paints with palette
24 colored pencils
24 oil pastels
24 crayons
36 markers
20 paper clips
scissors
glue
stapler
ruler
eraser
paintbrush and pencil with sharpener
What more could they need? Just get some paper and they'll be happy as clams. If you don't want to make another stop, Amazon also has Crayola Construction Paper Pads for as little as $4.99.
There are some disappointing reviews on Amazon.com for this kit but they're quite old (some from 2007) so hopefully it was a bad batch and/or the quality has improved in that time. Alex Toys can usually be counted on for quality-made stuff but Amazon.ca has a wonderful return policy if there is ever an issue.
This Super Art Studio will also ship to you for free as it's over the $25 threshold.
Do you have any budding artists in your home, Moosers?
(Expires: Unknown)