76% Off Sunny Patch Firefly Watering Can - Now $4 @ Chapters Indigo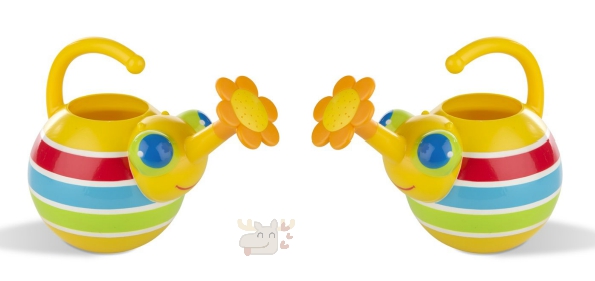 I am just dying over the cuteness of this watering can at Chapters Indigo. The Sunny Patch Firefly Watering Can was $16.95 and is now on sale for just $4! You save 76% on the original price for this Melissa & Doug watering can that is exclusive to Chapters Indigo.
With such a great price reduction, this toy is sure to make it onto your bucket list of toys to buy for your child. This rainbow child-sized watering can has a round body and a spout with a flower on the end of it. This colourful, sturdy, child-size watering can will encourage your young gardener to tend the garden daily.
Now I cannot compare this exact watering can as it is an exclusive toy for Chapters, but I did a little price comparison of other Melissa & Doug watering cans just to show you their averaging going price.
At Mastermind Toys, the Sunny Patch Blossom Bright Watering Can and the Sunny Patch Verdie Chameleon Watering Can are both on sale from $17.99 down to $8.99. The same two watering cans are $15.99 @ Sears Canada and $16.95 @ Chapters Canada. Even compared to the sale price for Melissa & Doug watering cans at Mastermind Toys, this Chapters Canada deal is still WAY cheaper.
This watering can is so cute and would make such a great gift for a young child. They can help you water the garden, dump water on their sibling's head, or use it in the tub for bath time. Some kids will probably use the watering can for carrying other things besides water. For $4, you just cannot go wrong with this little thing.
All orders of $25 or more receive free shipping at Chapters. I suggest combining this with other excellent - but not quite as highly discounted - toy deals at Chapters Canada right now. Their sale is hot with new things coming in each day. Currently, I would recommend the OgoSport Aero Zipp Set on sale from $34.95 down to $10. That is a 71% drop in price. It's a cool ball launcher that can launch balls over 200 feet. Perfect for playing with kids or pets!
(Expiry: Unknown)