75% Off DuneCraft Wizard Mountain Was $33 | Now $8 @ Chapters Indigo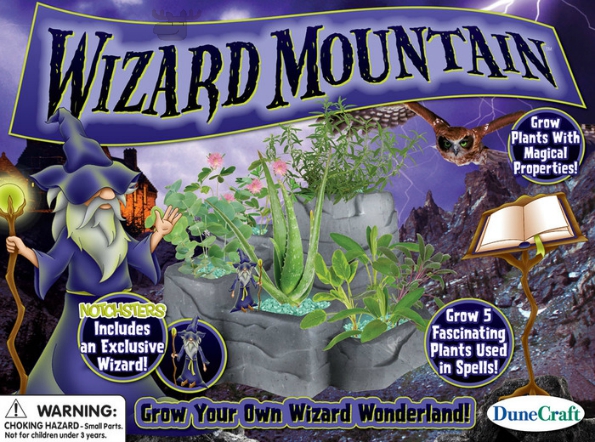 Pick up the DuneCraft Wizard Mountain kit to grow five plants in the mountain planter. Originally $32.95, this kit is now on sale for $8. Receive free shipping on orders of $25 or more.
This DuneCraft Wizard Mountain kit comes with five planters built into a mountain to grown five mystically relevant plants. These fragrant spices have a fascinating history that your child will learn of while the plants grow. This plant growing kit includes everything you need including seeds, planter, and soil. All your child will need to do is add water.
Now, you may think this is just a grow kit that will last a few years and you would be wrong. This kit and these plants will thrive in the Wizard Mountain for years. The seeds are quick to sprout and easy to grow. They are so easy to grow that the company offers an unconditional guarantee that your seeds will grow.
Your kit also includes a special edition wizard to watch over your growing plants or add to your DuneCraft collection. Even for children who are not into Dunecraft, this is a cool little set that teaches children how to grow plants.
Now, Chapters offers free shipping on $25 or more so I thought I would mention a few other deals. This Insect Lore Live Ant Hill seems like an appropriate fellow gift to give with the planter set. This way, your child gets to learn about animals and plants... specifically animals that live in the ground. You can see ants dig tunnels and make secret chambers! Do note that the habitat comes with a certificate to redeem 25 harvester ants by mail ($5 shipping charge). This ant far was $19.95 and is now $5.50.  at that discount, you could even afford 50 harvester ants ($7 handling fee) when you receive your certificate for ant redemption.
This Shape and Colour Matching Board was $19.95 and is now $5. I would hurry if you want this board, there are only three left as I type. This is a fun little gift for young children.
I really like educational toys... and I think these are great for each being over 70% off. Pick up your plant growing kit, ant farm kit, and more before they sell out.
(Expiry: unknown)