74% Off! Janod Nutty Ball Track Was $60 | Now $15 @ Chapters Indigo (EXPIRED)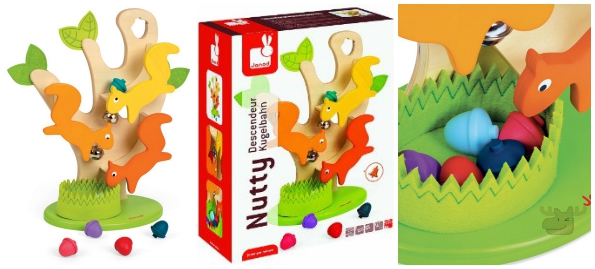 The Nutty Ball Track by Janod is a drop ball game where you drop the little 'ball nuts' into the top and watch them bounce between the squirrels on their way down to the bottom. The Butty Ball Track is currently on sale from $59.50 down to only $15 at Chapters Indigo Canada. This toy will qualify for free shipping on orders of $25 or more.
This toy is designed to foster motor skills and dexterity as your child slides the hazelnuts from the top of the tree into the top lane. They will also have fun watching gravity kick in when the hazelnuts rush down the three levels and fall into the grass. While not mentioned in the product description, the pictures show bells on each of the squirrels that are bound to make the toy more fun to play with as it is not only visual but also provides auditory stimulus.
The toy is made of wood for durability and long-lasting fun. I have also found that wooden toys tend to have a high resale value on mom and tot toy swap groups on Facebook. This set is brightly coloured to capture and maintain your child's interest. While the toy concept itself is simple, sometimes that is all it takes to capture your child's attention. We all know that sometimes children find the box more entertaining than the toy inside of it!
I am loving this sale price from Chapters Indigo. I found the Janod Nutty Ball Track Toy priced at $69.99 in the Amazon Marketplace. More reasonably, the toy is sold for $59.95 at West Coast Kids Canada.

I like how wooden toys have made a resurgence these days. While I was raised on plastic toys myself, I always liked wooden toys better because they could take a lot of abuse. From throwing wooden blocks at the wall to having your dog chew on your favourite toy... wood just handles abuse better.
I am sure this deal will not last long. Pick one of these up as a Christmas gift, baby shower gift, or for your own little one.
(Expiry: Unknown)