6-Volt Battery Ride On Motorcycle Now $172 Shipped @ Amazon.ca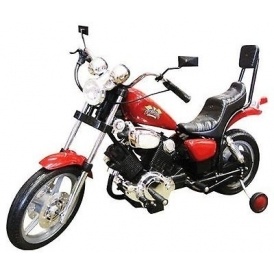 Spring is here whether the weather is showing it or not. Soon enough we will be spending more time outdoors than in, and isn't this a great way for the kids to have fun outside? Get your hands on the Best Ride on Cars Chopper 6-Volt Red Ride On Motorcycle for half-price at Amazon.ca right now. For just $171.94 your kids will have a blast! Shipping is even included.
My son has a ride on jeep that is battery operated and he loves it. The only thing he would love more is a battery powered motorcycle. I like that this ride-on even comes equipped with training wheels... because we know all kids are going to need them at first. Or at least we will need them to prevent us from having a heart attack.
This particular battery-powered ride-on sells in the USA for $299 USD and up so you have yourself quite a steal here. The only bummer is that I can't see any reviews on Amazon.ca, and it doesn't look like Canada carries this ride-on anywhere. The jeep I bought for my son was the same way though, and I have had no issues.
The battery powered chopper is shipped and sold by Amazon.ca so you will get free shipping included since this purchase is over $25.
(Expiry: Unknown)