2-Pack Monster High Dolls Only $13 @ Walmart.ca *HOT*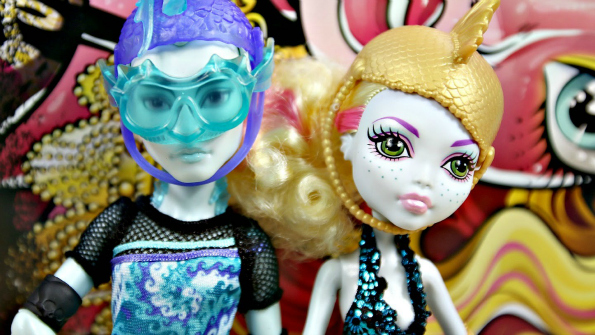 I fell over when I found this deal on Monster High Dolls - you can buy the two-pack of Lagoona Blue and Gillington "Gil" Webber for just $13! Originally this set was $44.86, so you are really scoring an amazing deal. I rarely EVER see a single Monster High doll below $10, so two for $13 is really hot. This is the Wheel Love set - they are out rollerblading.
This set gets you two awesome Monster High Dolls - one boy and one girl. The girl is one of my favourites; she is Lagoona Blue with a bluish tinge skin, fins, and wild curly blond hair. She has freckles too, which is totally adorable. The boy is Gillington "Gil" Webber - her boyfriend - as he also knows what it is like to live in the water as he is the son of the River Monster.
Lagoona Blue has a cute skating romper on and a contrasting belt. She is wearing golden skates and has a golden helmet to keep her safe. Gill has a pair of sporty goggles on that I think look really scary - probably because of the breathing tube. He also has a helmet of his own and roller skates too. Not only do these dolls come in a two-pack, they also come with some fun accessories. Thankfully, you will get two doll display stands so they are not sliding away on their roller skates.
One reviewer said:
I can't say enough good things about this set. They were well painted, the faces were perfectly aligned, the box art was charming and their outfits were perfectly stitched without any kind of pulls, loose strings or other defects. The detailing of the dolls and their accessories was just beautiful. I got a huge kick out of Gil's 'hairstyle' and that he was already wearing the goggles--in most cases the dolls are packaged with their eyewear to the side. Lagoona's hair was fabulous and her skates are adorable.
I have to say - I like the detail on this set as well. However, I promised myself that I would not develop a large collection of Monster High dolls so I am trying NOT to buy this set. I will probably fail. With Monster High dolls so popular among kids, I figured this was a hot little deal.
Receive free shipping to your local Canada Post on any size order.
(Expiry: Unknown)