Toms Canada: New Sale Section & $5 Off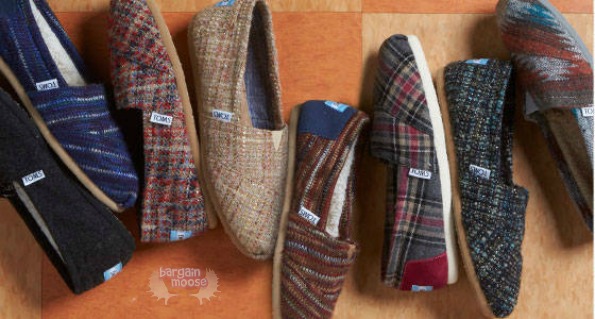 Toms has introduced a new sale section with 25% off select styles. This is great if you've been wanting Toms but not wanting to pay full price. On top of this deal, you can use the coupon code FALL and get another $5 off any spend over $25.
The new sale section is interesting because some items show the regular price and sale price and some only show the sale price. As with all sale sections, some sizes are also limited.
I'm totally loving these black space dyed men's canvas classics for my husband. He needs a good slip-on shoe to take him on errands and even in the workplace. I know he loves unique and classy shoes and these fit the bill. They are a fantastic deal with a regular price of $65, and on sale for $40.50, but add the coupon code on top of this and score these shoes for only $35.50. I had my credit card out and ready to get these, but they are out of his size, with more of the smaller and larger sizes available.
Instead, I might have to get him the black linen classics, which do have his size and are on sale for $40.50 ($35.50 with coupon), down from $65.
If you have a little girl who loves Toms as much as you do, she'll love these pink daisy biminis. They are super cute and great for wearing to school with dresses or pants. You'll love that you'll spend only $26.50 instead of $48 on these!
For myself, I love these baltic dip dyed women's crochet classics. These were also $65 regularly with a sale price of $44.25, which comes down to $39.25 after coupon. I already have the red classics so I want a shoe that provides the same comfort with a completely different look and these definitely do that.
Shipping is absolutely free from Toms until October 27th, no matter what you order. In order to maximize your savings, if you are buying more than one pair I would do separate orders as you can use the coupon in each instance. Toms are pretty amazing shoes and if cost was stopping you, now is the time to jump in and get yourself a pair or two (or three). There is also a large selection of sunglasses on sale too.
(expiry: unknown)