Today Only: Dr. Martens 50th Anniversary Boots Were $160 | Now $50 + Shipping @ Dr. Martens Canada (EXPIRED)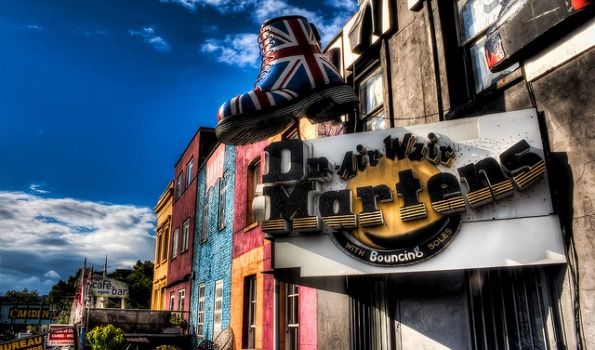 Dr. Martens Canada has put their 50th Anniversary Boots on sale today for 69% off the original cost. You can score a classic looking pair of Dr. Martens that were $159.99, now for only $50. Sizing is limited, but these boots are surely worth a second look.
If you love the classic look of Dr. Martens boots, then you may want to check out these awesome special anniversary boots today. This limited edition boot is designed after the iconic 1460 boot. Many of the design features including the silhouette, yellow stitching and loop on the back look very similar to the classic 1460. These boots also feature a stamp in gold near the ankle that reads "Dr. Martens, 50 Years, since 1960." You will never mistake that these are an upgrade to the original classic boots with that stamp.
Sizing
Sizing is unfortunately limited on these boots. They are currently available in the following men's sizes:
US 12, which is UK 11
US 13, which is UK 12
US 14, which is UK 13
Price Comparison
These special edition boots are only sold through Dr. Martens, but there are several places you can pick up the classic 1460 boot which is similar. You can find the original 1460 under the label Kubick @ Little Burgundy, but you will pay $165. Soft Moc has the men's classic 1460 but you will pay $174.99. Hudson's Bay also carries the 1460 but in white or red only for $160.
Shipping
Free shipping is available if you spend a total of $75. If you buy just these boots, shipping is a flat rate of $15. Even with the shipping rate, these boots are a great deal. It may be worth your time to check out the sale section and see if there is another pair of shoes to top you off to $75,
I would recommend topping your order off. I would check out this pair of Amar sandals in brown and black that was $69.99, but are now $44.99. Now is a great time to grab a comfort a versatile pair of sandals for summer. There are some other great pairs of shoes on sale, but sizing in the lower priced items is limited. I would keep my total order to as close to $75 as I could. You can check out the sale section to see all the options.
These special edition boots will not last long, this is an absurdly good price that is only available today. If they have your size, I would grab a pair now. Dr. Martens are extremely comfortable and I know you will love your new boots.
Image Credit: Nate Maingard
(Expiry: 10th April 2015)