Take 70% Off Natural Soul Faux Leather Dress Shoes Just $30 @ Naturalizer Canada Clearance Sale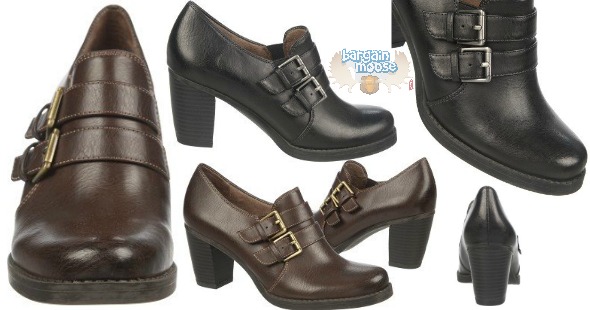 Naturalizer Canada has just started their Winter Clearance sale. That means Winter is on it's way out and you can shop online at Naturalizer.ca or in stores to take up to 70% off your favourite shoes. In particular, I really liked the Natural Soul by Naturalizer Cool Faux Leather Dress Shoes. These shoes were $100, but with 70% off you will pay just $30. 
These Natural Soul by Naturalizer Cool Leather Dress Shoes come in both black and brown. You can select your colour preference before selecting your size. It does appear that most sizes remain available at this time, so there shouldn't be any disappointment. Don't wait long though, $30 for a nice pair of quality dress shoes is a great offer and won't last long.
These Cool shoes from Naturalizer are a faux leather upper in a heeled dress shoe style. The round toe can be dressed up or worn casually, whichever you prefer. The straps are decorative and boast metal buckles for an extra zing. These shoes are built for comfort as well as fit. The insole is nicely cushioned and breathable. The heel is only 7cm, so don't worry about watching YouTube videos on "How to Walk in Heels" when you purchase these babies.
Personally, I think these shoes would be great for interviews, dinner dates.. maybe even parent teacher meetings? They look both comfortable and stylish to me. I would pair them with nice boot cut dress pants and a nice blouse. How would you sport these faux leather heels? If the size and colour is not available online, you can always head into your local Naturalizer store to try and find them.
If you have not already, you can also join the Naturalizer eClub to save an additional $10 off your first purchase and free shipping. I did try to apply the promo code to this specific pair of shoes and did not receive the $10 discount, but it will come in handy when you come across a regular priced pair of shoes you must have. The free shipping from this eClub offer was applicable to my purchase though.
If you don't use your eClub coupon to get free shipping, you won't have to pay much for shipping and handling fees. Shipping starts at $5 for your first purchased item and then only $2 for each additional item  you add to your cart. Considering the savings, the shipping cost won't phase you much.
(Expiry: Unknown)