Tabi: Donate a Pair of Jeans Get $20 Off a New Pair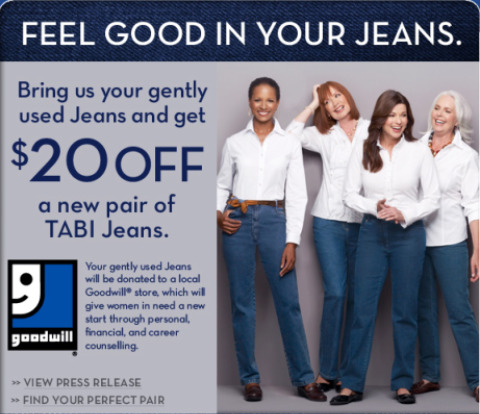 Till September 6, 2010 if you bring in a gently used pair of jeans to the store you will get $20 off a new pair from Tabi! Your old jeans will be donated to Goodwill.
So you can feel good about doing something for others, and get a new pair of jeans at the same time!
Fine print:
TABI and Goodwill Industries International are encouraging customers to donate their gently-worn jeans as part of a jeans trade-in promotion. Customers who participate in the promotion from Monday, August 23 to Monday, September 6 will receive $20 off a new pair of jeans when donating a used pair (or pairs) at TABI. One discount is given per donated item. The donations will be sold at Canadian Goodwill retail stores, where the revenues fund job training, employment placement and career support services for people who have a disability, lack education or job experience, or others facing challenges to finding employment.