Shoe Company Canada: 25% Off Second Pair of Athletic Shoes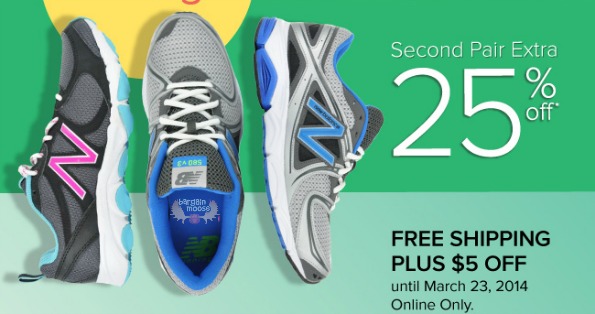 The Shoe Company has a sale on where if you buy one pair of athletic shoes, the second pair will be 25% off. The good news is that it can be a combination of men's, women's or kids shoes, so if you have more than one person to buy for, this sale is for you.
It is like this sale knew what I was thinking. Once I'm done working for the day, I'm planning on heading to the Shoe Company to get myself some new shoes for the gym and get my youngest a pair of shoes for outdoors, since it really is almost time to shed our boots. But, since the Shoe Company also has a $5 off any order and free shipping deal going on as well, I really should just shop online!
Because I use orthotics, I need a shoe with a removable liner, and I am partial to New Balance, which does have that removable sole. These New Balance runners are cute, comfortable and lightweight. I've had my last pair of these type of shoe for about three years, so while it is definitely time for new ones, they have held up remarkably well. $76.99
Because good-quality shoes are so important on children's feet, I go for brands I know are sound, like these Stride Rites. They also have a Star Wars design that I know my kids will love. I might just have to get three pairs! They sell for $64.99, but with the additional 25% off, I'll pay only $48.74.
I'll also get that $5 off my order and the free shipping with promo code, so I really can't lose.
(Expiry: Unknown)