Puma Trinomic Women's Athletic Shoe Was $120 | Now $56 (FS @ $75) Shipping @ Little Burgundy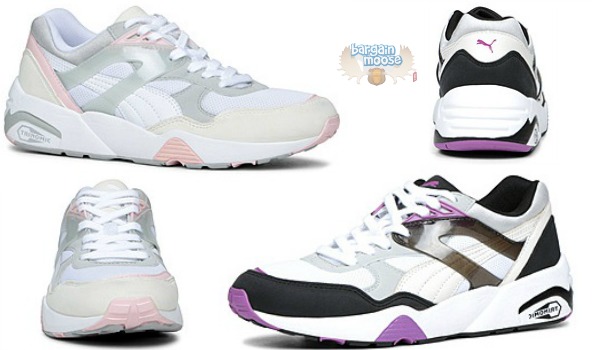 Classic style with advanced technology, these Puma sneakers are all you need to give your workout a boost. The Puma Trinomic XT-1 Women's Sneaker was $120, but you can grab it for only $55.99. Shipping is a low $5 at Little Burgundy or get your cart up to $75 to get free shipping.
Fashion meets function with the Puma Trinomic XT-1 Women's sneaker. Puma has taken their classic style that was originally released in the 90's and has now updated this retro style with their own Trinomic technology. The Trinomic technology includes collapsible cells in the heel that help to give you extra cushion and support as your run. Puma has updated this line with some new colours, which you can now catch on sale at half the price. These shoes let you rock a street shoe vibe during your workout or just running around town.
Right now, you can pick up the Puma Trinomic XT-1 Women's sneaker in a black, grey and purple pattern or a light grey, white and pink pattern. These shoes feature the classic cat logo on the back and plenty of padding both under the sole of your foot and around the ankle to keep your feet comfortable and supported.  You can grab these shoes in the following sizes.
Black Purple Pattern: 6, 7, 7.5, 8, 8.5, 9
Grey Misc. Pattern: 6, 7, 7.5, 8, 8.5
I searched around to make sure you were getting the best deal on these shoes. While I could not find the exact same colour options, I did find these sneakers sold elsewhere. Puma Canada sells ladies Trinomic sneakers directly for $97.50. You have three pattern choices in blacks, greys and light tan though none of them have colour accents like the Little Burgundy option. I also found a similar model of Trinomic shoes for ladies at Hudson's Bay for $130. The men's version of the Trinomic sneaker is sold at a few more places including Footlocker Canada for $129.99.
These shoes are a solid choice if you like a retro or street shoe look. I am digging the black and purple pattern myself. I have a pair of workout capris in black with a purple panel up the side and matching tank that these would pair fantastically with these shoes. Unfortunately, I have big feet and those size nine are just a smidge too small for me. Little Burgundy has discounted many other pairs of shoes today in the sale section. You may want to browse a bit before you finalize your order.
(Expiry: Unknown)