Puma Canada: Just Because Sale – Save Up To 75% On Select Items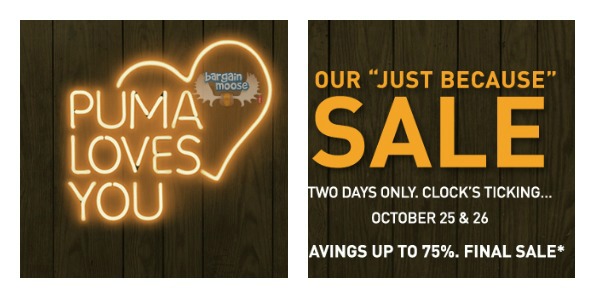 Puma Canada is offering a sale on select items for up to 75% off. Sale prices are already shown, but quantities and sizes are limited. Offer does not apply to past purchases and all sales are final. This sale is valid only at shop.puma.com for shipments to US and Canada and is valid until October 26th 2012.
Wow, look at the price of these Delor Cat Suede II V Kid's shoes for kids. These were $55 and are now $27.50. These are available in colours chocolate brown and white, black raspberry and navy/red with many sizes left.
I also found these Pumagility Jr shoes that were $75 and are now $37.50. These are in black high risk red for the boys and white-raspberry rose for the girls. Still a few sizes left here as well.
In the women's section, I spotted these Body Train Loose Shorts that were $65 and are now $39. These look comfy and they come in black, night shadow blue, prism violet and hot coral with many sizes still available.
Check out these Ferrari Future Cat M1 Shoes for men that were $155 and are now $93. These shoes come in white puma silver and black aged silver, but there are not many sizes left. The price is an awesome deal if one of the sizes and colours suits you.
Guys, if you're into golf, you gotta have the right outfit and this Duo-Swing Mesh Golf Polo Shirt is just what I'm talking about. This was $97.50 and is now $68.25 with 10 available colours and many sizes left. Now, just combine the shirts with a pair of pants, like these 5 Pocket Golf Pants that were $110.50 and are now $77.35, and you're all set. These are available in 6 colours with quite a few sizes left, mostly in the colour blue depths.
Check these sales out, the sale won't last long and the prices are fantastic.
Shipping: Free on orders over $100.
(Expiry: 26th October)