Old Navy Canada: Boys Tropical Print Canvas Sneakers Were $23 | Now $7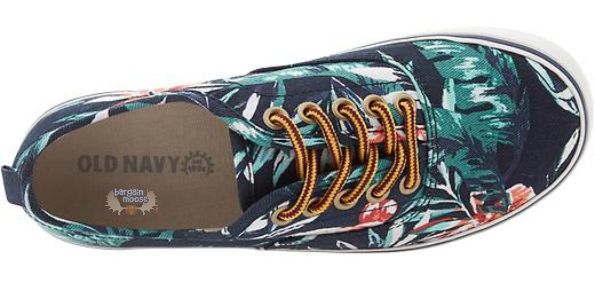 With Back to School shopping in full swing, shoes might be next on your list. Your kid needs a good pair of indoor shoes, outdoor shoes and maybe even another pair of indoors for extracurricular activities. I know that can add up especially if you have more than one kid like me. That's nine pairs of shoes in my house! I try to buy the deals when I see them and this pair of canvas shoes at Old Navy is a steal I'm not going to miss out on. These shoes might not be for everyone with a tropical fruit pattern, but I think they are super cute for the littler guys! Regularly $22.94, they are on sale for $9. Add the coupon code ADDUP to your cart and they come down to $7.20.
If you are planning a vacation away this winter, these shoes would also look great for your time away. Comfortable and durable made from 100% cotton, the rubber sole will also ensure your little man can run around without slipping.
They've got one review, where the reviewer thinks these shoes are the bee's knees:
These shoes are adorable on and are actually much more versatile than one would think. My son and husband LOVE these and I love the fact that they are twinning. He wants to be just like daddy!
It looks like Dad also has these shoes, but I could not find the matching shoes for him. I did find a whole bunch of other tropical items that are also on sale.
If you are spending more than $75, your coupon value goes up to take off 25% instead of 20% and goes up to 30% off on a $100 spend. That means you can get your shoes as low as $6.30 if you are stocking your cart. Don't forget free shipping also happens on a $50 spend. I did notice that they have an up to 60% off kids items sale, so pairing that with the coupon could mean some super hot deals in your cart.
(Expiry: Unknown)