Old Navy Canada: $1 Flip Flops June 28th Only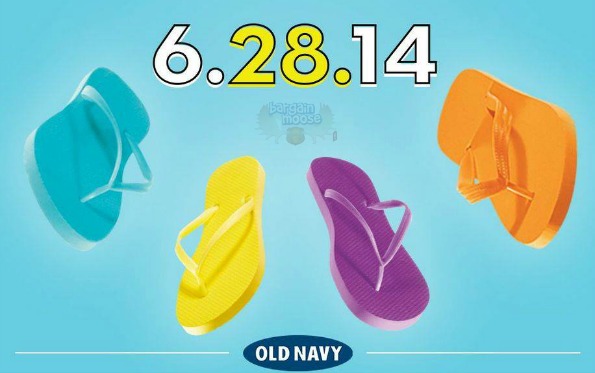 About once a year Old Navy Canada brings back a spectacular footwear sale and this year it is happening Saturday June 28th only.  Head into your local Old Navy store and you will be able to get flip flops for just $1 each!
This deal is an in store deal only so you will not be able to get it online. If you are an Old Navy card holder, you can actually take advantage of this deal one day early and shop Friday June 27th.
No matter which day you go, you will be able to purchase up to fives pairs of flip flops per person.  This deal is one of the most popular deals every year and even though they will have a ton to choose from, it is always best to shop earlier in the day for the best variety.  You may love a pair of flip flops and they could run out of your size later in the day.
Each pair is just $1 each which is a fantastic deal. Currently, the flip flops being offered at Old Navy Canada range in price from $4.95 and go up to $14.95 so the very low price of just $1 will be a steal of a deal!
Additionally, this deal will work for all flip flops.  You can buy kids, women's and men's and still get them all for just $1 each. If you have are an Old Navy cardholder, you can go in on June 27th and get your 5 pairs for $1 each and then head in again on the next day with the rest of the public and get 5 more pairs.  This would be a great way to shop for the entire family and get 10 pairs of flip flops for just $1 each! I plan on getting a few in different colours myself.
(Available Saturday June 28th Only)