Little Burgundy: Hunter Short Wellie Rain Boots $77.50 & Free Shipping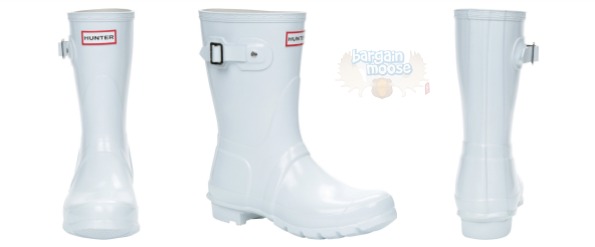 This is a hot little deal from Little Burgundy Canada. The Hunter Short Rain Boots were $155 and are now on clearance for $77.50 with free shipping.
I have seen the short Hunter boots retail for this much used at places like eBay and Trend Trunk. It is no wonder, as the boots are very popular and cost a lot more anywhere else. Even on sale, this is the cheapest I could find the short Hunter wellies anywhere else:
$99.99 @ Soft Moc Canada
$105 @ Hunter Canada
$165 @ The Bay Canada
As you can see, both Hunter and Soft Moc have some of the Short boots on sale, but neither of them matches the price at Little Burgundy right now.
These boots are called 'snowy' and are sort of a very light blue-ish white. Currently, sizes 8, 9, and 10 are in stock. I would most certainly buy a pair at this price except that I wear a seven so they are already sold out in my size. Hunter boots traditionally fit a bit large. That is on purpose: they want to make sure you have enough room to layer in a warm sock or a Hunter boot liner to keep your feet toasty warm.
I do not imagine these will be in stock for long at this price. The cheapest I have ever seen any Hunter rain boots (tall or short) before is around the $98 range on sale.
While you may think that these are a bit expensive for a rain boot, I can assure you that they are excellent quality. When you buy a pair of Hunter boots, you are purchasing them for life. I have a pair of the black short wellies from Hunter for especially rainy days. Those boots will probably outlive me.
If you are going to own a pair of hunter wellies, I do recommend picking up the proper Hunter protection - you can find it many places like The Bay or from Hunter themselves. As good quality rubber will bloom when exposed to moisture and changing temperatures, the protection stick will restore your hunter boots to their original sheen.
Receive free shipping on all orders at Little Burgundy right now. This is an excellent time to pick over the clearance section for great deals.
(Expiry: Unknown)