There's a New Keds x Betty and Veronica Collection!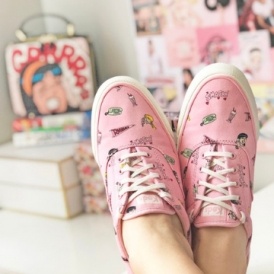 Whether you're a diehard Riverdale fan or someone who grew up on the original Archie comics, there's no denying that Betty and Veronica are iconic. And now, they're immortalized in a new Keds collection!
The Keds x Betty and Veronica collection is now available online at Keds Canada. There are six pairs so far, and prices start at $80.
On their website, Keds describes the new collaboration as "a celebration of the famed characters' retro Americana style, confident attitude and female camaraderie."
I loved reading Archie comics as a kid, but the Betty and Veronica books were my favourites – so I'm really excited to see this new line. I might just have to pick up these Kickstart Comic Tennis Shoes!
I haven't seen these sneakers at any other stores in Canada yet, but drop a mention in the comments if you spot them out in the wild! Direct from Keds Canada, shipping is free.
If you like this, you may like these...