Hunter Original Ankle Boots Were $155 | Now $65.88 @ Little Burgundy

**BUMP: Sizes 6 and 7 are back in stock!!!**
I am a huge fan of Hunter rain boots and could not survive the winter season on Vancouver Island without them. While I have the simple short boots, I am about to upgrade to these gorgeous Hunter Original Ankle Boots. These boots were $155 and are now on sale for $77.50. Subscribe for an extra 15% off coupon code, bringing the boots down to just $65.88! Pay just $5 for shipping.
This deal is SO AWESOME! These boots are gorgeous because of that chunky heel that really elevates the foot - these do not look like your standard rain boots. They are sexy and the black colour will match everything in your wardrobe. I am pretty stoked about these boots and plan to order myself a pair.
To get the extra 15% off, you merely need to subscribe to the Little Burgundy newsletter for the first time. If you have already subscribed, then I recommend using a 10minutemail for subscribing. You can score an extra 15% off the sale price as you can see below: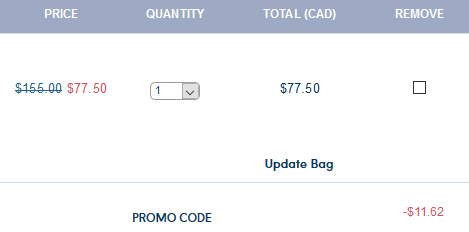 I received my coupon code within five minutes and you can see it applied above to take that extra $11.62 off, thus bringing my total to $65.88 plus shipping. You will have to pay for shipping unless your cart reaches $90 - the minimum for free shipping.
I am stoked about this deal because I have caught it early: sizes 6, 7, 8, 9, and 10 are all currently in stock. I checked out some of the other Hunter deals and all the other boots are down to just one size - not much of a selection. The Hunter Original Ankle Boots was just put on sale so you have a good chance of getting your size.
I price compared with the Hunter Canada store, where these boots still retail for $155. You will certainly want to pick these boots up at Little Burgundy.
These ankle boots have a nice little heel on them and beautiful matte styling. They are stylish, completely waterproof, and extremely durable. I love my own Hunter Rain Boots and am delighted to have found such a good deal on these. In black, these Hunter Original Rain Boots will soon become a wardrobe staple.
(Expiry: Unknown)