Fluevog Canada: Up to 76% Off Shoes & Accessories Sale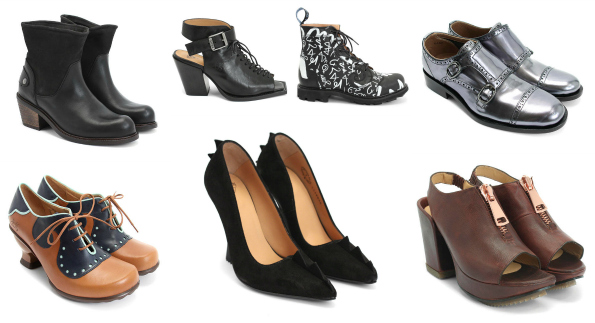 Fluevog is my go to place for shoes and boots, therefore their sales are like chocolate cake used as bait for me - irresistible. Currently, they are offering up to 76% off their beloved shoes, boots, and accessories during the Positive Affirmation Sale. Shipping is $16 for the first item or $10 per item for two or more items.
My pick of the sale has to be these Queen of the Skies Neptune shoes. These shoes feature the spines of some prehistoric animal or a crocodile I am sure - but there is nothing prehistoric about these shoes! The heel is a work of art - sort of like a black stone pillar and the entire shoe really looks amazing. Available in black, the Neptune is currently on sale from $339 down to $99.99. That is 71% off the original price! They even have my size but these shoes are better for narrower feet so I am not buying them. *sad*
I have never been much into belts but there are a couple genuine leather belts in the sale worth grabbing. For the true Fluevoger - pick up the Tucson Belt on sale from $125 down to $29.99. For the rest of us, try the Prepare Belt on sale from $125 down to $39.99.
Personally, I am here for the shoes. The Mariella is like an oxford with a pointed toe: it is bold, aggressive, and shiny if you buy it in gold. Originally $359, both the black and the gold are on sale for $129.99.
The ATV Patriot is one odd shoe; I will admit that it looks like a cross between a slipper and a platform ankle boot. The leather is soft and supple so you can slide them on and button them up. They come with a 2" heel and a 1.25" platform to add a little height for us shorter gals. Originally $359, they are now $139.99.
There are so many beautiful shoes in this sale; my favourite would have to be the Kitschy Kitschy Boom Boom Viv, which is a low-heeled leather lace-up. The brown and navy combination is on sale from $319 down to $159.99.
For reference, most Fluevog shoes regularly retail between $200 and $500 full price. There are many reasons for this: innovative design, quality materials, and your shoes are made in closely monitored factories for quality control. I have several pair of Fluevogs and - as long as I take care of them - I dare say they will last 10 to 20 years longer than any cheap pair I have ever owned.
(Expiry: Unknown)