Fluevog Canada: Fluevog Shoes & Boots for Just $99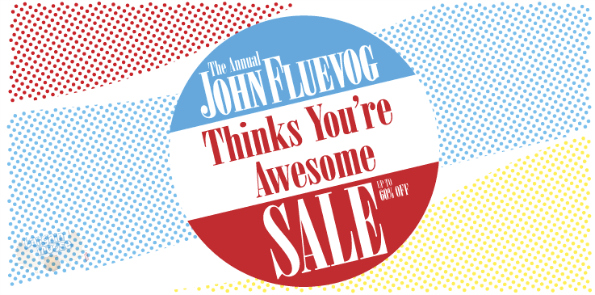 I am a huge fan of John Fluevog's footwear company and I own five pairs of Fluevogs myself. Well, the 7th annual John Fluevog Thinks You're Awesome Sale just started and you can get your hands on a pair of Fluevogs for only $99.
Let's start in on the stunning footwear.
For the women:
The Ruth | Kristen is a bootie that comes in burgundy or black. It has a pointed toe and sort of gives off a cowgirl vibe. Originally $269, these boots are now discounted to $99. Between the two colours, sizes 6, 7, 10, and 11 are available.
The 7th Heaven | Angela is on sale in all six colours the shoe comes in including a matte black and a really shiny red. Between the different colours, almost all sizes are still available so this is most certainly a shoe to check out in the sale. Originally $225, it is now on sale for $99.
The 7th Heaven | Michael (women) is available in three colour combinations. I have to say, the black with white polka dots is my favourite though the white pair are adorable. Originally $229, they are now only $99. Plenty of sizes still available.
The Begin | Cha Cha is a fun little slip on in camo print available in lots of sizes for a mere $99 (was $229). It has the shape of a classic Cuban smoking loafer so would make a great shoe for both inside the house and outside.
These Mountains | Rushmore are only available in a size 10, but if you are that size then enjoy these beauties! They have a footbed wrapped in natural sisal, which makes them pretty darn cool. I also love the cool blue straps. Originally $265, they are now $99.
You will also want to check out these Presence | Imagine shoes which were $229 and are now only $89. They are a funky little flat in bright summer colours.
For the men:
The 7th Heaven | Michael shoes are on sale in red, white, and blue, brown and red, or brown and light brown for just $99, originally $229. The red, white, and blue shoes have six sizes available while the other two colours have rather sparse offerings.
I have seen the Arch Angel | Robert in person and these shoes are stunning. if the shape had worked better with my husband's feet, I would have bought them for him. Originally $289, they are now on sale for $99 in either blue or red.
If you are a size 11 1/2, pick up these Angels | Michael shoes in black. They are a favourite style of mine. Originally $199, they are now $99.
Shipping is a flat rate of $15.
(Expiry: Unknown)