Flash Sale! 50% Off Select Items This Weekend Only @ CROCS Canada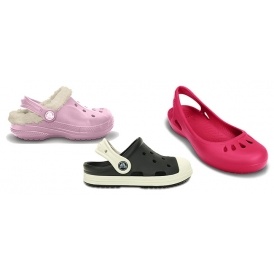 I know your kids have at least one pair of CROCS, am I right? I also know they are growing out of them right now as we speak! Okay fine I'll admit it, I have a pair myself. Don't judge me. I really couldn't live without them for my garden and around the house.
They truly are the perfect spring and summer shoes for kids—second-to-none for swimming lessons, wading pools, beach days and indoor shoes left at daycare.
Only select styles are available (with limited sizes) but there are many cute choices on sale this weekend that will work for children, juniors and go ahead—treat yourself! Don't be dissuaded from styles meant for cooler months either. If you are confident in sizing up for your kids, this is a good time to stock up for fall. My kids even use the Feat Lined Clogs as slippers around the house.
No coupon code required for this one, discount will be taken in your cart. And shipping is $9.99 flat rate for orders under $100 and free on orders over $100.
Your turn to fess up now you guys, who else can't live without their CROCS?