Edriana Heels Only $39.98 & Free Shipping @ Brown's Shoes Canada Boxing Day Sale (EXPIRED)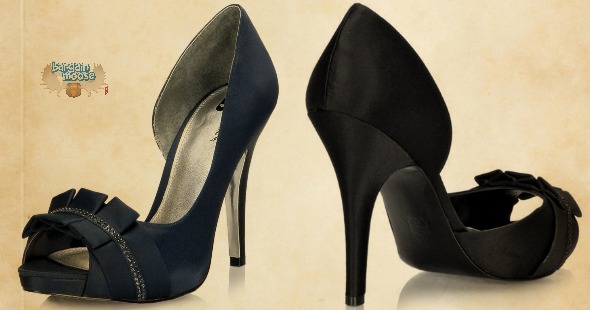 Brown's Shoes Canada has started their Boxing Day Sale, and during this promotion, you can save up to 75% off shoes and boots. I happened to stumble across these gorgeous Edriana Heels that are only $39.98 after receiving 73% off the previous price. For a limited time you will also get free shipping on all orders too.
These shoes come in three colours, but the gold, sadly, is sold out. The other two colours are also greatly discounted though. You can get the Edriana Heels in navy for $39.98 or the Edriana Heels in Black for $49.98. These prices are much better than the previous price of $148.00.
I have a sneaking suspicion that if I purchased these heels I would need to find excuses to get out and wear them. I love the pleated look with the rhinestones over the toe. The fact that these shoes are open toe just means you will even have excuses to have your toe nails painted all pretty.
The navy shoes suit my taste more than the black does, but I know the black heels would match just about everything. These shoes are made of satin so you can expect that they will shine and draw attention wherever you may go. The heel height is 100 mm, which works out to almost 4 inches, so make sure you know how to walk in these things. I do not suggest them for winter wear, haha.
The sole is leather for ultimate comfort and breath-ability. There seems to be plenty of sizes still available in both black and navy, but I would add them to your cart and check out soon so that you do not miss out. The beige Edriana heels sold out awfully fast.
Shipping is included and estimated delivery will take between 3 and 5 business days. It is actually great that they are offering free standard shipping with no minimum right now. Usually flat rate standard shipping would cost you $5. Combine that with the fact that these shoes are 73% off their previous price, and you have yourself a great deal.
There are tons of other great prices on shoes during this Brown's Shoes Canada Boxing Day sale, so if these shoes don't quite suit your tastes then head on over and see what else they have. You can pay with Visa, MasterCard or Amex. Unfortunately, they don't accept PayPal yet or I would have added these beauties to my shopping cart.
(Expiry: Unknown)