Aldo Shoes Canada: 15% Discount on Kids Shoes!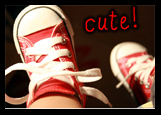 Would you like a free discount coupon for a 15% reduction on your next purchase of children's shoes, in-store @ Aldo? If the answer is "yes," then just join the Aldo mailing list online.
If you're already on their mailing list but still would like to get your hands on the coupons, when not just sign up with one of your alternate email addresses… or make a free gmail or yahoo mail account if you need an extra one. It's a good email list to be on – Aldo often send me free coupons and discounts.
Once you get the email with the printable coupon, take it with you to your local Canadian Aldo Shoe store.
P.S. Click the "email discounts" tag to see more great Canadian stores which offer us great coupons and discounts when we sign up to their email newsletters.
Thank you for the image red zongbyrd!