Aldo Shoes Canada: $105 Off Jacelyn Leather Boots - Now $35 (+ Extra 30% Off All Boots!)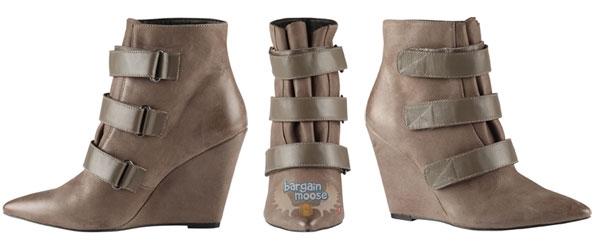 Fall is almost upon us and so is the time to wear fabulous boots and right now, Aldo Shoes is offering an extra 50% off all shoes all clearance along with 30% off all boots. I spotted these Jacelyn ankle boots on clearance for just $34.99. They were originally priced at $140, so that puts them at a 75% discount.
Personally, I love the fall season! I may not love the cold but I do, however, love wearing oversized sweaters with a pair of skinny jeans and a fabulous-looking pair of boots. I already have plenty of high heels but I'm definitely in need of new pairs of boots for the upcoming season, especially unique-looking ones. The Jacelyn boots definitely fit the bill both price and style-wise. It actually surprised me that these books are made of leather and even the sole is rubber, which means that rain of shine, they're bound to be fine, although keep in mind that it's still a good idea to upkeep your shoes with a cleaning and shining product. You can pick a shoe cleaner for just $7.99 or a shiner for the same price.
Available in sizes 6.5 to 9, the Jacelyn have a pointy heel and feature three velcro strips bound to make putting these boots on a breeze. I happen to have very similar booties to these but given that a girl can't always wear the same pair of footwear, I'm definitely tempted to get these as well! ;)
Since shipping is only free on orders over $60, it might also be a good idea to get a second pair of boots. The only hitch is that if you look in the clearance section, then sizes are severely limited. Available in sizes 5 through 7, the Mitexi could also be an interesting choice, especially since they're on clearance for $22.49 (reg. $90). Although they're not leather, the price is, however pretty worthy and the beads on the foldover cuff are sure to make any outfit stand out.
You can also save an additional 30% off regularly-priced boots until September 7th 2014. I absolutely love the Oneriwien ankle ones as they would look amazing with a pair of skinny jeans or even a pair of dark leggings. Originally retailing for $100, they're down to $70 and are available in either bone nubuck, black nubuck, camel or black.
(Expiry: Unknown)