Additional 40% Off Fuzz-Lined Crocs From $12 @ Crocs.ca!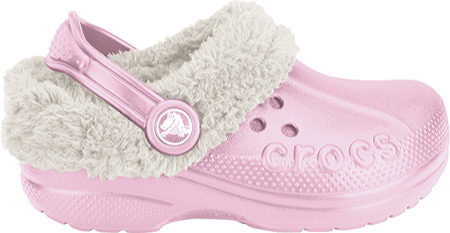 Crocs are super comfy, and great for wearing around the house or garden. But in the cold-winter months we have been having, I miss my go-to shoes. Did you know that Crocs makes a Fuzz-Lined collection? Right now you can even take an additional 40% off the already reduced items in the Fuzz-Lined collection - which makes prices start as low as $11.99! Spend $100 to get free shipping.
My son is in daycare a few days a week, and they require both indoor and outdoor shoe. I think some Fuzz-Lined Crocs would be great indoor shoes for sure. They are easy to put on and take off, and they would keep his cute little toes nice and warm. I also can't complain about the price!
The Kids's Crocs Hilo Lined Clogs are super adorable. They were originally $34.99 and are now on sale for $19.99. At the check out process you will see that an additional 40% off discount is applied, which leaves you paying just $11.99. These clogs are an adorable pink colour with aqua fuzz-lining. The Kids' Baya Heathered Fuzz Lined Clog is another great option, though a little more on the pricey side. They come in four different colour schemes suitable for both boys and girls. These Fuzz Lined Clogs were originally $39.99 and are on sale for $30.99. Once you add them to your cart you will notice that the price drops down to just $18.59.
If you want Crocs without the traditional Crocs style, then check out the other footwear selection for women. The Mammoth Leopard Flats come in grey or black. They are both comfortable and classy.  They were $44.99 but with all discounts accounted for you will pay just $12.59. For the more adventurous footwear wearing women here, check out the Women's Mammoth Bow Flat. These flats are the exact same price, but they are an adorable magenta colour. I wish I had the style type to pull these adorable flats off. Though if you do want to stick with the classic look, the Baya Leopard Fuzz Lined Clog will do the trick. They were originally $49.99 but on sale for $32.99, so with an additional 40% off you will pay just $19.79.
Crocs Canada offers free shipping on orders over $100. To reach that threshold, maybe you want to team up with some friends and make an order together or buy a few pairs of Fuzz Collection Crocs for the entire family.
Moosers, do you wear the Fuzz-Lined Crocs?
(Expiry: 18th January 2016)