Two Can Dine From $15 @ Swiss Chalet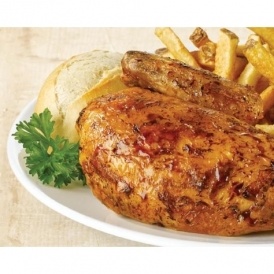 It is Monday, and I really can't muster up the motivation to cook for whatever reason. I was thinking of throwing together some grilled cheese quickly, but this might be a better option. Right now Swiss Chalet Canada has two separate "Two Can Dine" offers. You can get the "Two Can Dine for $14.99" on dine-in or take-out orders, or "Delivery Meal Deal for $19.99" on delivery orders. If you were planning on dining out for Father's Day - here is the perfect opportunity.
So whether you feel like sitting down and eating at your local Swiss Chalet, or hunkering down at home with some delicious chicken - Swiss Chalet has the deal for you. Right now two can dine starting at $14.99 which is a stellar price on a meal like this.
The Two Can Dine For $14.99 offer is only valid on dine-in and take-out orders at Swiss Chalet Canada. This offer will get you two Quarter Chicken Dinners which are regularly priced at $9.59 each. Keep in mind that upgrading to white meat will cost you $1.75 extra per meal.
The Delivery Meal Deal includes 2 Quarter Chicken Dinners plus an Appetizer or $19.99. For white meat, add $1.75 per entree as usual. This is a special delivery offer only, so if you want to order and sit at home then this is the better option.
Both of these offers expire on June 26th, so you have plenty of time to redeem them. Maybe even twice!
(Expiry: 26th June 2016)