Half Price Pizzas for March Break @ Domino's Canada!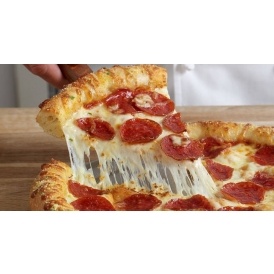 What's for dinner tonight, Moosers? Did you know that you can use the coupon code CAG5014 at Domino's Canada online and get 50% off all pizzas during March Break?! I think I just decided your dinner plan for you! Hurry though, this offer is only valid from March 14th through March 20th, 2016.
So this is a pretty stellar deal if you are not wanting to cook tonight, or any night during March Break. Follow the link above and select your delicious pizza. Domino's has to be my favourite place to order pizza. When you get to the check out process, apply the code CAG5014 and you will see the discount. From what I can see, it seems to work on even the gourmet type pizzas. Get in my belly!!
Like all Domino's coupon codes, there will be stores that are not participating unfortunately. Add one pizza to your cart and test it out before you order a feast fit for a king and become disappointed that the code doesn't work. Also, this offer is only valid for online orders. You can select pick up or delivery though, at least there is no exclusions for that. I hate paying delivery fees, especially when you save this much money!
(Expiry: 20th March 2016)