Get Wings For $0.60 Each Online @ Pizza Hut Canada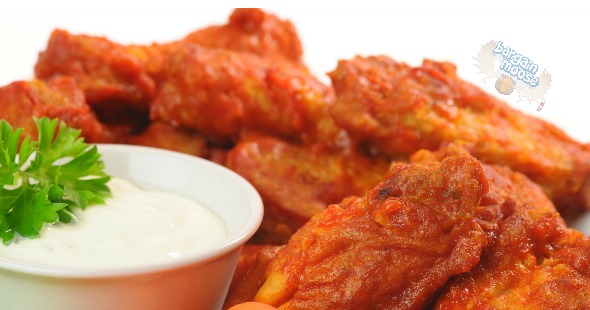 *BUMP! This delicious offer is back again*
Pick your poison - boneless, breaded or traditional. Pizza Hut Canada has brought back their Wing Street special. During this promotion you can treat yourself to your favourite type of wings for just $0.60 each. You can imagine how great your discounts would be once you start ordering for the entire family or sports team.
There's just something about having wings while watching sports games or spending quality time with the family. Whether you prefer boneless or the classic style wing, you might want to check out what Pizza Hut Canada has to offer. For a limited time, you can pay just $0.60 per wing when you order online at PizzaHut.ca. The discount should be automatically applied, but if not you will need to enter the code 119 at the check out process. Depending on the size of wing order you purchase, the regular price for these would be from $0.93 to $0.99 per wing. This offer is valid for carry out and delivery orders that are made online only.
There are few different options to choose from when it comes to wings at Pizza Hut Canada. I am drooling already, especially over the boneless bites. However, I did find that some Pizza Hut locations only have 3 out of the five choices available. The options are as follows:
Traditional Wings
Boneless Bites
Breaded Bone-in Wings
BBQ Traditional Wings
Hot Traditional Wings
All of the discounts are applied at check out, so pick your poison and enjoy the savings when you pay. I would personally add the 22 piece Traditional Wings to my cart. I prefer boneless wings but men seem to prefer actually tearing the chicken meat off the bone. This option would normally cost $19.99 and there are quite a few sauce choices. Choose between flavours like honey garlic, salt & pepper, burning hot buffalo and more. I chose honey garlic.
Here is a look at the pricing for other amounts of wings from Pizza Hut:
8 wings were $7.99 | now $4.86
14 wings were $12.99 | now $8.40
22 wings were $20.99 | now $13.20
Once I added these delicious wings to my Pizza Hut shopping cart, they were discounted to $14.92, which is $6.79 off the regular price. That works out to be around 34% off the regular price. Pizza Hut has lots of other delicious food items you can add to your order as well. You can try the Ultimate Hershey's Chipits Cookie if you feel like spoiling yourself just a little bit. This cookie comes with 8 decadent slices of cookie pizza that are warm and soft in the middle.
(Expiry: Unknown)