$4 Value Meals Are Back @ Wendy's!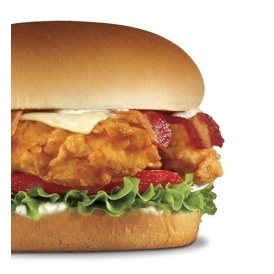 Hurray! For any of you that are secret Wendy's lovers - their $4 Value Meals are back for a limited time. That means you can get your choice of the Junior Bacon Chicken or 5 Piece Nuggets with a soft drink and fries for just $4. Did someone say - dinner!?
I spotted this offer posted on the Wendy's Canada Facebook page - and I may be guilty of considering this for dinner tonight even though I had Harvey's over the weekend. The Junior Bacon Chicken (JBC) is actually one of my favourite things to order from Wendy's, and my kiddo only eats the chicken nuggets. Was this offer tailored to me!?
Either way - paying four bucks for either of these meals is quite a deal. I don't imagine that this offer will stick around long (like last time), so make use of it while you can. Let me know if you notice how ginormous the Wendy's soft drinks are! I always order a small and even that never fits in my cup holder.
Bon appetit!
(Expiry: Unknown)